Should you travel to the German region of Baden it is a must to try the 'Badischer Rahmkuchen' as it is called in this southwestern part of the country.  Many will think that the Baden Cream Cake is similar to a cheesecake. Yes, it looks the same, however,  in a traditional cheesecake you use mainly cream cheese or ricotta.
For the Baden Cream Cake topping, you use sour cream and Schmand (Smetana). Schmand is not easy to find, however, you can substitute it with crème fraîche. The 'Baden Creme Cake' is softer and creamier than a traditional cheesecake.
You don't have any plans to travel to Germany? No problem. Bake the 'Baden Cream Cake' yourself. The preparation of this cake is quick and simple and it tastes so good. A little tip from me. Eat the cake while it is still lukewarm.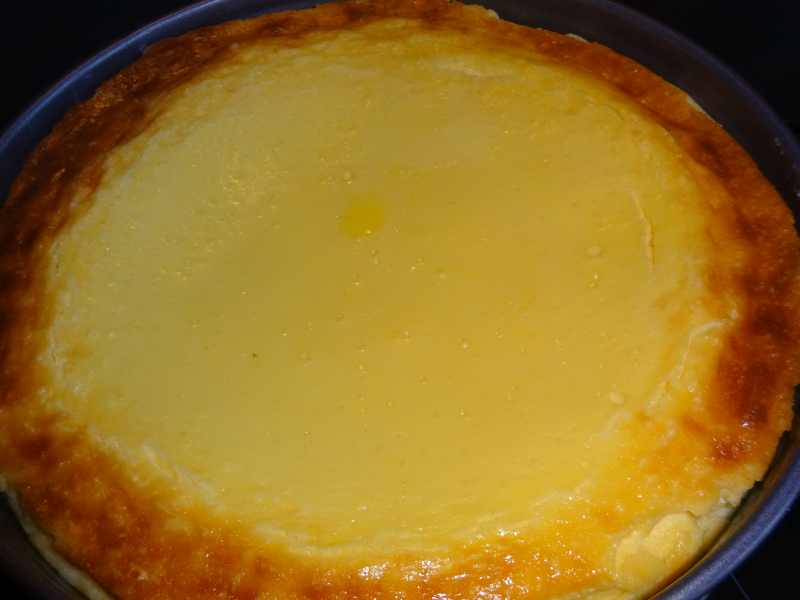 Baden Cream Cake – The Recipe
You can make this delicious and simple cake with a pie crust base or on a thin yeast base. This one here is with the pie crust base.
Ingredients for the dough:
1.5 cups flour
1/2 cup icing sugar
1/2 cup cold butter
1 egg
a pinch of salt
Ingredients for the filling:
14 oz. sour cream
14 oz. Schmand (or crème fraîche)
3 eggs
1/4 cup cornstarch
1/2 cup sugar
2 tsp vanilla sugar
How to bake the 'Baden Cream Cake':
Using a large bowl mix flour, icing sugar, and salt. Cut the cold butter in small pieces, spread over dry ingredients and add the egg. Knead all until you get a smooth dough. Wrap in plastic wrap, press flat and let rest in the fridge for 10 minutes.
Combine sugar, vanilla sugar, cornstarch, eggs, sour cream, and Schmand in a mixing bowl and beat the mixture with a whisk until the sugar is dissolved completely.
 Grease the springform with butter or use a non-stick baking paper and heat the oven to 360 Fahrenheit
Roll out the dough on a floured surface a bit larger than the springform. Transfer carefully to the tin and press to the sides to get an edge of about 1.2 inches. Prick the base several times with a fork.
Pour the cream mixture onto the dough layer. Bake for 45 minutes until the mixture is set and the cake top shows a golden colour. Switch off the oven and let the cake rest in there for another 10 minutes. Remove the cake from the springform and let it cool out on a cake rack.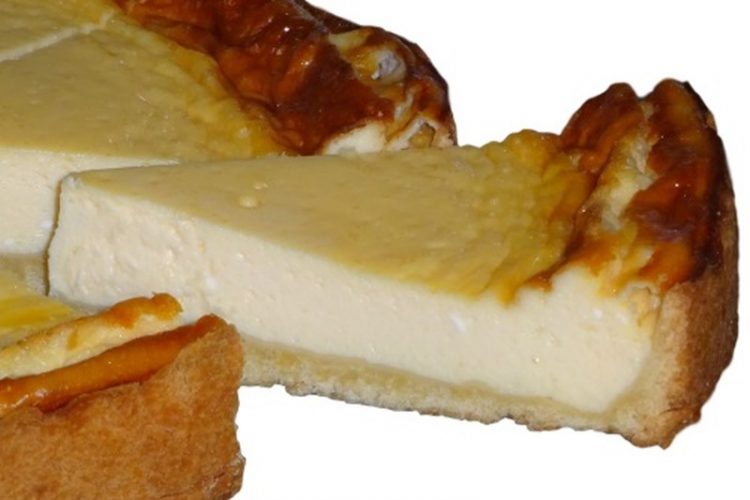 This traditional german sour cream cake is so creamy and delicious, everyone who tries it will be amazed and will ask you for the recipe. Definitely recommended for baking…
For more yummy cake recipes, you may also like the Linzer Torte or the Rhubarb Pie.
By:


Andrea